Best Camping Tips for Blue Ridge Parkway
There is no other way to fully experience the spectacular environment of the Blue Ridge Parkway than to set up a camp, and immerse yourself within the pristine nature. As one of America's most visited tourist destinations, the Parkway attracts many excited campers each year, and it's no surprise that they choose this location as one of their favorites. Having eight campgrounds, the Parkway is well equipped for this activity, but still there are some important guidelines, and rules to know, in order to make your trip as safe as possible, and to preserve the delicate environment. So here are the best camping tips for Blue Ridge Parkway.
Camping areas
Most of the Parkway's camping areas are open from May-October, with the exception of the Peaks of Otter Lodge which is operational all year round. The camping areas offer an abundance of facilities, which host various activities for children and adults. In addition to this, the campgrounds have access to grills, and picnic areas as well as fully operational water stations.
Apart from the already mentioned Peaks of Otter campground, there is also the Otter Creek and James River, Rocky Knob, Doughton Park, Julian Price Memorial Park, and Mount Pisgah, the highest campground, which is also equipped with lodge, a restaurant, and miles of hiking trails.
Basic guidelines
As mentioned, the grounds are open from May to October, and during the winter, only chemical toilets and frost resistant faucets are provided.
During season, campgrounds take a daily fee. For information about the cost, visit the Parkway's official website.
Many campgrounds are suitable for large trailers and camp vehicles. But check out the Parkway's tunnel heights first.
Be sure to make your reservation, as the campsites operate on a first come, first served basis.
No longer than 30 days per campground is allowed.
Campsite setup
Camping is allowed only on areas which are designated for it. No more than six people are allowed per area. Be careful with your vehicle speed, as only 15 mph is allowed, for your safety. For each site, a maximum of two vehicles is allowed. Needless to say, vehicles are not allowed on hiking trails.
As far as tents go, they should be placed on tent pads, and only one is available per site.
Camp fires are allowed only within the fireplaces and it is very important to extinguish all fires when you are leaving your campsite. Grills and stoves are permitted as well.
Another important thing to be wary of is the food storage. Make sure that your food is locked away, as the smell can attract dangerous animals.
Regulations
Quiet hours are from 10 pm to 6 am.
Checkout time is at noon.
Carrying weapons is permitted, but the use is not.
Never interfere with wildlife, hunting is strictly forbidden.
Pets must never be left unsupervised
Now that you know all of the most important rules, there is nothing stopping you from having an unforgettable trip to the Blue Ridge Parkway. Follow these tips carefully, to ensure your own safety, as well as the prosperity of this magical place.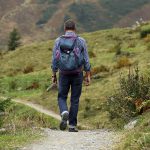 Hi there and thanks for visiting my blog. I am an avid traveller, cyclist and hiker. I have always been enthusiastic about travelling since I was young; however, I decided to venture fully as a nature tourist in 2014.
Categories: Blue Ridge Parkway